Josie Olgers, a young Dutch video specialist, spent a few years on Bonaire filming windsurfers, divers, and the natural beauty that can be found here. While she was here, she learned about a number of ministries that are making a positive difference in people's lives here.
She decided that the people back home in the Netherlands should know about these positive aspects of the Bonaire scene, because as you may have noticed, the only stuff that typically makes it on the news is the bad news.
Josie went back to Holland and obtained the backing of the Dutch evangelical communications consortium, "EO". So last December, she and her husband-to-be (tho I don't think they knew it yet) Thom Verheul, came here with a crew and shot lots of video.
They returned home and produced a 50 minute show called
Bidden voor Bonaire
, which in English, means Praying for Bonaire. The program aired a number of times in Holland and more recently it was on the Dutch language satellite network, BVN, so we were able to see it here as well.
One of the featured ministries is the TWR Project Hanna outreach to women and its radio program
Woman of Hope
.
A group of women from a number of churches meet at TWR on the last Saturday of each month to pray for women's needs and ministries to women on Bonaire and around the world.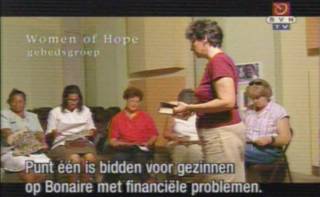 Work is also underway to get the
Woman of Hope
radio program on the air in Papiamentu. The local women have been surprised to find out how much work and time it takes to do a radio program, even when they are just translating and adapting an existing series of programs.
The first program is "in the can" and parts of three more are completed. I think they are shooting for a August start up date. I'm sure the Bonaire
Woman of Hope
team would appreciate it if you would remember them in your prayers.