It only rained a little bit on Sat. and Sun. mornings. We had a nice breeze and some sunshine too. I got in a 40 mi. bike ride Sat. am and we did a load of wash that actually was dry by the afternoon, and the flooding is receding slightly in some areas.
Here are two pictures by Bob Thorp showing the water at the Transmitter site. The parking lot is in the foreground and a security guard is walking along the access road in the middle. The original MW feedline used to parallel this road. One can also see a ship at the salt company pier in the background.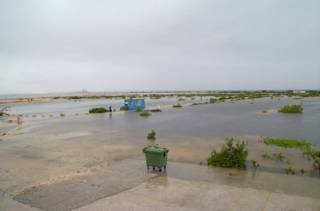 Close up shot of the access road at the TX site. When I rode by on my bike Sat. am, the water level had gone down noticeably. Click on the pix to see them bigger.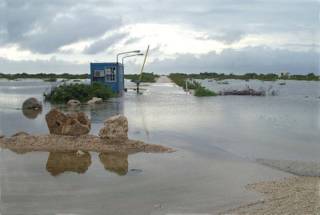 If you have a fast internet connection, here is a
link to a 10 meg. file
that is a great movie showing the rushing water flowing down the streets and through the yards in the Sabadeco neighborhoods. You can also find some amazing underwater videos on the blennylips site. Berni Lusse appears in most of the videos if you watch closely.