Here is a prize winning Chopper style bike built by Boi Anthony and his son. They built in on Saturday, painted it Sunday morning, and rode it that afternoon. Boi says they already have a design in mind for next year.
There was one two year old rider and a couple three year olds. We covered a little over three miles in about 45 minutes.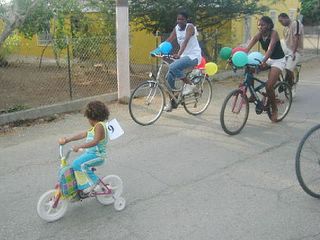 Boi Anthony's son on the chopper bike. This photo and the one above are from Bob Lassiter.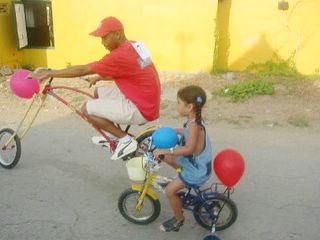 Another shot of the adult part of the group. The kids section has already turned the corner in the distance.
You can click on the pictures to see them bigger. There were door prizes, prizes for bike decoration and design, as well as for the oldest and youngest riders.
Me on my new bike, in a shot by Jon Savage. I've put over 1500 miles on it so far. This bike is not designed for going slowly, but I got a lot of good practice that afternoon.